I'm finding it hard to say much these days that seems to matter in light of the heavy news that I seem to wake up to every day. If I have anything to contribute to the current conversation, I want to be intentional about bringing you nothing but insightful, optimistic and useful content that helps us move through times of uncertainty of hardship – if not for ourselves then for the founders that so many of us work with every day.
And luckily, there is a lot of good happening right now that is worth talking about and considering as we all try to figure out how to move forward.
A terrible opportunity to waste
Obviously, I was unable to travel to Germany as planned to hold interviews in Berlin and fortunately, many of my contacts happily moved our conversation online. One recent highlight was my conversation with Mara Zepeda, one of the four co-founders of Zebras Unite. Under the premise "A crisis is a terrible opportunity to waste" we discussed how we might reframe the current situation to set about shifting gears in the old rusty machine of capitalism to bring about a culture that is more aligned with the values outlined in the Zebra Manifesto. Stay tuned for Mara's feature!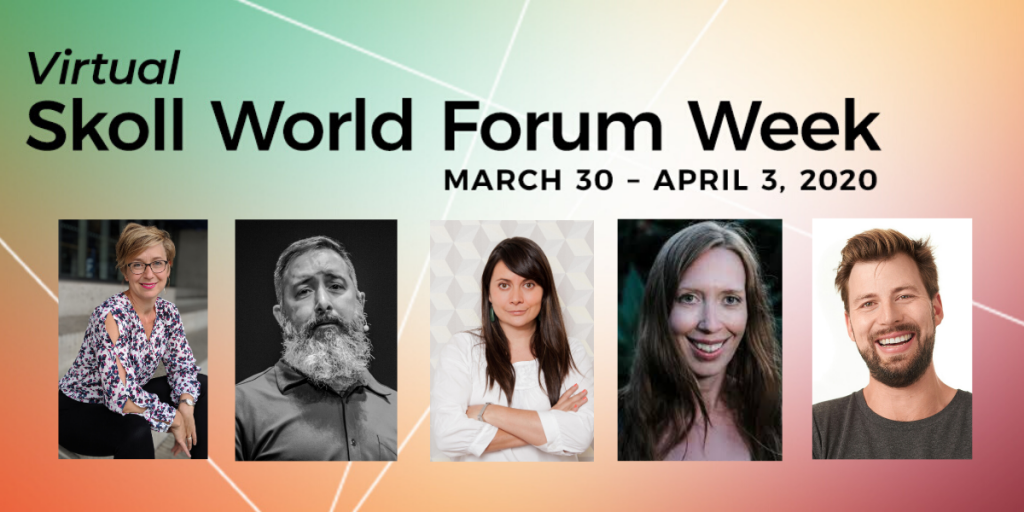 Ecosystem Builders as second responders
Another upside I found over the last weeks was that the Skoll World Forum for Social Enterprise moved online. I suddenly structured my week around sessions hosted by organizations I had wanted to learn more about for a while. The cherry on the icing? Michelle Arevalo-Carptenter and I co-hosted a one-hour panel discussion highlighting how Social Venturers from four different continents are addressing the challenges in their communities right now. Read all about it in this session recap. Our 5 key insights:
Put on your oxygen mask before assisting others
Assess the damage: Agility is king
Activate the ecosystem through a flow of talent, information and resources
Engineer serendipity and build trusting communities online
The way forward: Ecosystem builders unite!
Let's not hope that things go back to normal. Normal wasn't working.
What transpired in my conversations over the last four weeks – once we got through the fears and despair – was the notion of "NOW is the time to take a leap of faith and restructure how we want to move forward." Our friend Jeff Bennett wrote a very powerful piece about why our work as ecosystem builders matters now more than ever.
In other words, we are well equipped to help reinvent how our economies might work in the future and as ecosystem builders, we are well equipped to inform national policies, to ensure financial resources are distributed fairly, and to inform economic decision making from a systems perspective. At the same time, now more than ever, our role is to work closely with entrepreneurs in our communities.
Remember, our role is to act "as a connector, convener, and a concierge of resources in their communities. Ecosystem builders foster conversations, connect the community, and tell its story. They celebrate entrepreneurs. They champion them, connect them, provide resources and direct them to other resources. They provide access points to the ecosystem so that anyone can participate and intersections for the serendipitous connections." (Jeff Bennett, Now more than ever we need ecosystem builders).
What's next?
Interviews have taken a backseat for the time being. I have put most conversations on hold until I have my bearings about what a valuable way forward looks like. With that being said, we are three weeks into our first mastermind program and I'm dying to tell you what we have cooked up so far! Stay tuned!
How you can help
What does support look like for you right now? Whether you would like to chat personally or host a fireside chat about how to manage the world in its current state, let me know! I'm here and am happy to corral the troops to get you what you need!
Share your leanings and successes! If you have had experiences that you learned a great deal from in dealing with COVID-19 and supporting your entrepreneurs through this time, we'd love to hear it and share with this community! As mentioned in our Skoll World Forum session – let's learn together and from each other! What is working for you? What do you need help with?
Lastly, if you find yourself in need of inspiration and a healthy dose of optimism, check out our Instagram campaign! We switched all content over to uplifting stories and insights to help you through this difficult time. It might not be much, but it might be just what you need.