"The essence of an entrepreneurial ecosystem is its people and the culture of trust and collaboration that allows them to interact successfully. An ecosystem that allows for the fast flow of talent, information, and resources helps entrepreneurs quickly find what they need at each stage of growth. As a result, the whole is greater than the sum of its separate parts."
Entrepreneurial ecosystem building is a framework that helps us make sense of the human interactions that affect entrepreneurs in a community. If we want to see entrepreneurs - or changemakers of any kind - thrive, we need to figure out what hinders and what propels their success. After working with entrepreneurs one-on-one and through group programs - work I still enjoy as an advisor and mentor -  I realized that in order to make a meaningful difference, I would have to work at a systems level. Taking a systems, rather than an individual or group approach, allows us to improve the conditions under which changemakers in our communities operate. 
Different authors - from practitioners to academics - have developed definitions to put their stakes in the ground about what ecosystem building is and how we should go about it. We absolutely need a shared language if we want to have meaningful conversations about this topic. Definitions make excellent anchors for some of those conversations but beware! They're not the end-all be-all. To me, understanding how we might uncover and intentionally help build supportive communities around changemakers is a practice best learned from those who are already doing the work. 
In season 1 of Ecosystems for Change, you meet six practitioners who hold vastly different official titles in different parts of the world. Instead of trying to arrive at one definition that all six could agree on, I welcomed six different perspectives on our work, each of them adding a distinct perspective.
Debbie Irwin

shared her approach to fostering entrepreneurship in rural Virginia by intentionally building up community capital.

Charlton Cunningham

explained how his upbringing as an army brat helped him internalize the value of building trusting relationships.

With

Denisse Rodríguez

I talked about her regional efforts to build an entrepreneurial ecosystem across the entire island of Puerto Rico.
Darlisa Diltz

let us in on her work in Dallas-Forth-Worth and discussed how she handles competition in the entrepreneurial support space: Worship playlists and good food - need I say more?

In my conversation with

Christina Oldfather

, we tried to shed light on the perceived juxtaposition between economic development and ecosystem building. 

Michelle Arevalo Carpenter

took us on her journey from human rights lawyer to ecosystem builder that led to her building a full service ecosystem support organization, Impaqto. 
3 key lessons from season 1
1. Take a lean startup approach
How often have we given this advice to the entrepreneurs we work with? And how often - hand on heart - have we followed it ourselves? If we truly put the needs of those we serve at the front and center of our work, then we need to listen closely to what these changemakers need. Take a lean approach of curious inquiry, lots of listening, experimenting and iterating along the way.
When Michelle Arevalo Carpenter returned to her home country she met with hundreds of peers to find out what the real issue was for her fellow impact makers: loneliness. People needed community and were looking for a place in which they belonged. Thus, Impaqto was born as Ecuador's first privately owned co-working space and certified B Corp and has since blossomed into a full-service ecosystem building service.

2. Approach your work with a mindset of abundance, patience and generosity
As ecosystem builders we approach each conversation with generosity and openness - willing to give before we get. But of course, that generosity - or shall we say abundant mindset - is not always reciprocated. 
In episode 3, Charlton Cunningham gave us a word of warning: Not everyone who claims to be in it FOR the entrepreneurs really is. As ecosystem builders, we're positive & optimistic in nature. We assume that we ALL put the needs of entrepreneurs ahead of our own agendas and those of our organizations, but of course there are always players in the ecosystem who don't live by this rule. So at all times, stay critical, do your thing and protect entrepreneurs. Remember that - especially when it comes to bad actors in the ecosystem, you can't control what other people do, you can only control how you respond. But that should not stop you from offering to help and keeping an open mind because sometimes the ecosystem just isn't mature enough. That's what I learned from my conversation with Michelle Arevalo-Carpenter:
"An ecosystem is like a wild plant. So, if you go and ask a wild plant to give you flowers when it's not it's time, then you don't hate it. You don't take it personally. You understand that that plant is also in a process. If you start moving away from that heartbreak narrative into a narrative where you understand that an ecosystem is constantly changing, that has led us to consider working again with someone who might have given us a heartbreak before, but they also have their own processes. They also learn. They also understand. That's how you give everyone two or three chances, as many as you need, to really understand  that we're not always the same people when we meet at different points in time."
3. Build trust and genuine relationships
The third lesson I took away from this season is this: When in doubt, start with community and building trust:
Michelle didn't set out to build a co-working space that later turned into an investment fund and consultancy and entrepreneurial programming. She wanted to counteract loneliness and build a community where other changemakers in Ecuador felt that they belonged.

Darlisa highlighted that first and foremost, she and her team are holding space for a community of idea-stage founders. She wants to nurture early talent and give them a safe space to try things out and learn the basics in the safety of the Texas Entrepreneurship and Education Center.

Charlton explained in detail how important it is to show up regularly, in-person, offer help and support, and always have an open ear for what's needed. Before anything else, he started out by nurturing trust among the players in his Atlanta ecosystem.

Christina worked in the office for economic development but spent her early days hanging out with entrepreneurs and asking them "How can I help?" to build trust and build genuine relationships with the people she wanted to serve.
For a full recap of season 1, listen to my Season 1 Review: Co-Writing the Playbook on Ecosystem Building.
Key resources from season 1
Organizations
Events
Startup Champions Network Spring Summit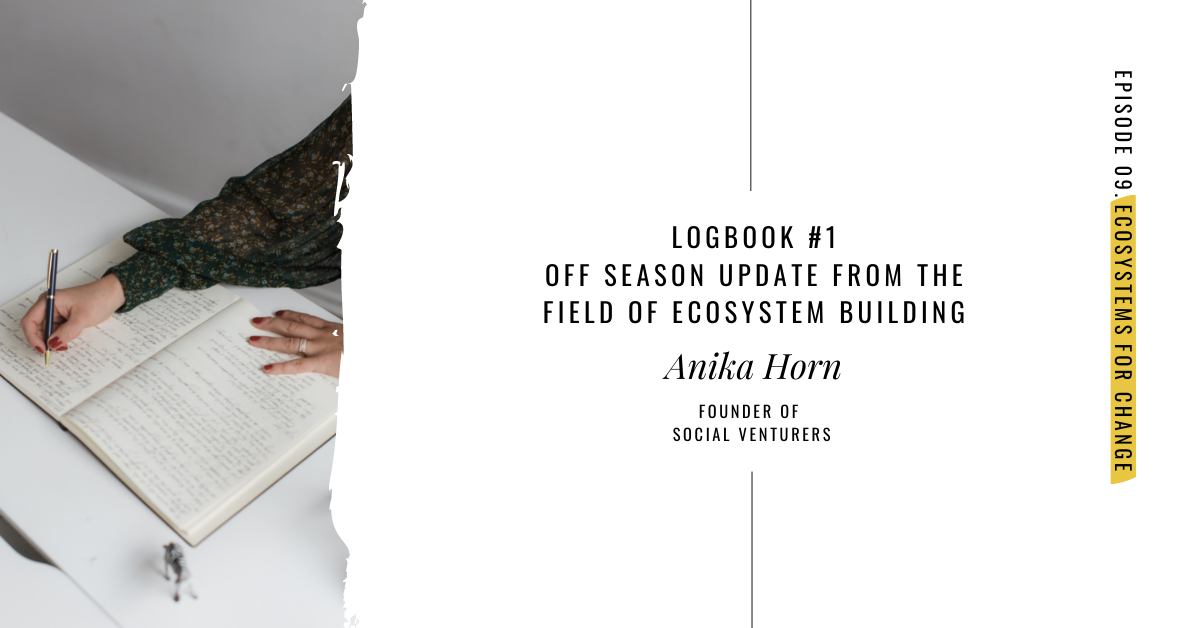 I have been writing monthly Logbooks ever since I started Social Venturers.
It's been my way of keeping myself accountable and sharing with other people what I've been working on the month before, what I was planning, and how people could get involved.
Read More