The month of September just wrapped up with a whirlwind of conferences, which – despite being virtual – have brought a lot of fresh ideas and insights into the field! One of which is a new offer: a masterclass on how to thoughtfully design and execute engaging panel conversations and/or keynotes! I wrote an entire Insights piece about this topic because I. JUST. CAN'T. TAKE. ANOTHER. SNORING. PANEL.
At the Social Enterprise World Forum, I had the opportunity to chat with fellow Social Venturers Kaat Peeters, George Tsiatis and Peter Ptashko about some of their experiences in building ecosystems for social change.
At ESHIP Summit, I was reminded that building a movement takes a long time and that mass collaboration is a messy messy business. It might be time for me to move on and make space for some of the newer members who are bursting with ideas and energy to take this field to the next level.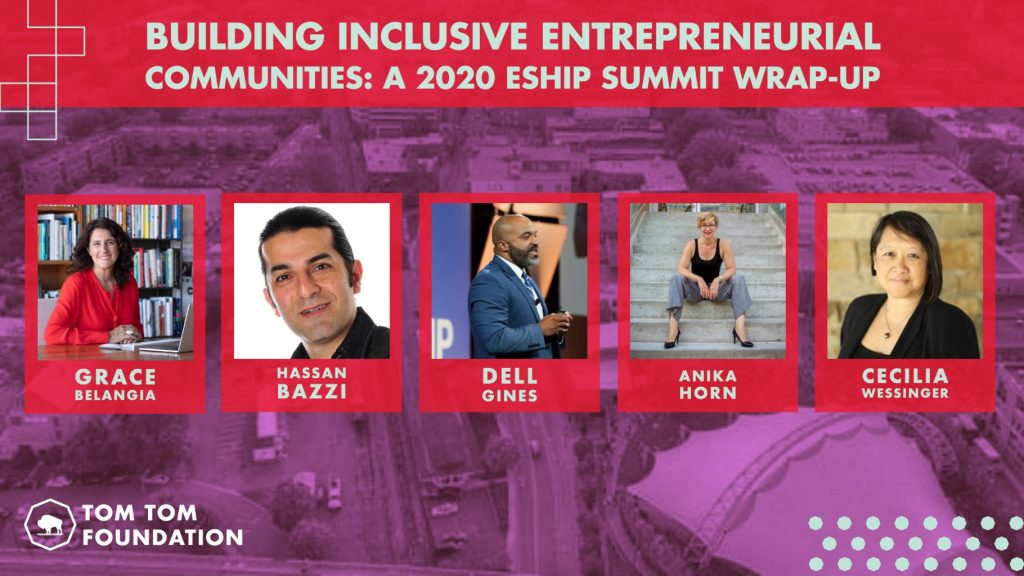 On October 2nd, I shared the virtual stage with a number of ESHIP Champions to share how we might build inclusive entrepreneurial communities (see a short snipped here). That same Friday, I also had the opportunity to give my very first masterclass on effective ecosystem building for social change at CLIIQ2020, the Nexus Latin American Summit.
In September, I also concluded the Ecosystem Building Foundations series which means that we are now ready to dip our toes into a seven-part series that I call Ecosystem Building 101!

What's next
With the launch of Ecosystem Building 101, we are going to dive deeper into each of the seven principles for effective ecosystem building over the next seven months (one topic per month)! The first topic is Put entrepreneurs front and center and you can read all about it here!
Fireside Chats
To source stories from ecosystem builders in the field, I continue to host Fireside Chats every two weeks and look forward to exploring #3 Enlist Collaborators. Everyone is Invited and #4 Live the values in the month of October!
Masterclasses
Possibly MOST exciting is the launch of our masterclasses! Between now and December, I am hosting 4 masterclasses to share some of my hardest won insights with anyone who is keen to level up their skills as a social impact professionals! Here's the schedule:
October 13: No more snoring panels. Hosting engaging conversations online and in-person
October 29: Rooted in purpose. Never get stepped on again because your mission and values are not clear.
November 12: Game plan 2021. Planning for wellbeing and execution in 2021
December 1: Storytelling as a tool for community building
How you can help
Do you know anyone who is planning a virtual event before the end of the year? Make sure to share these 6 tactics with her/him and the schedule of our masterclasses!
Needless to say, I would love to see YOU! Come join us! For friends of Social Venturers, I offer a $10 discount per class! Use the code insider when you register!
Do you know any existing or emerging ecosystem builders for social change? Share our first Ecosystem Building 101 segment with them: #1 Put entrepreneurs front and center.
I am gearing up for an exciting 2021 and I would love for you to come on this journey with me! Drop me a line to let me know how I can help you move forward as an impact-driven individual!
---
Image credit: Photo by Jack Cohen on Unsplash