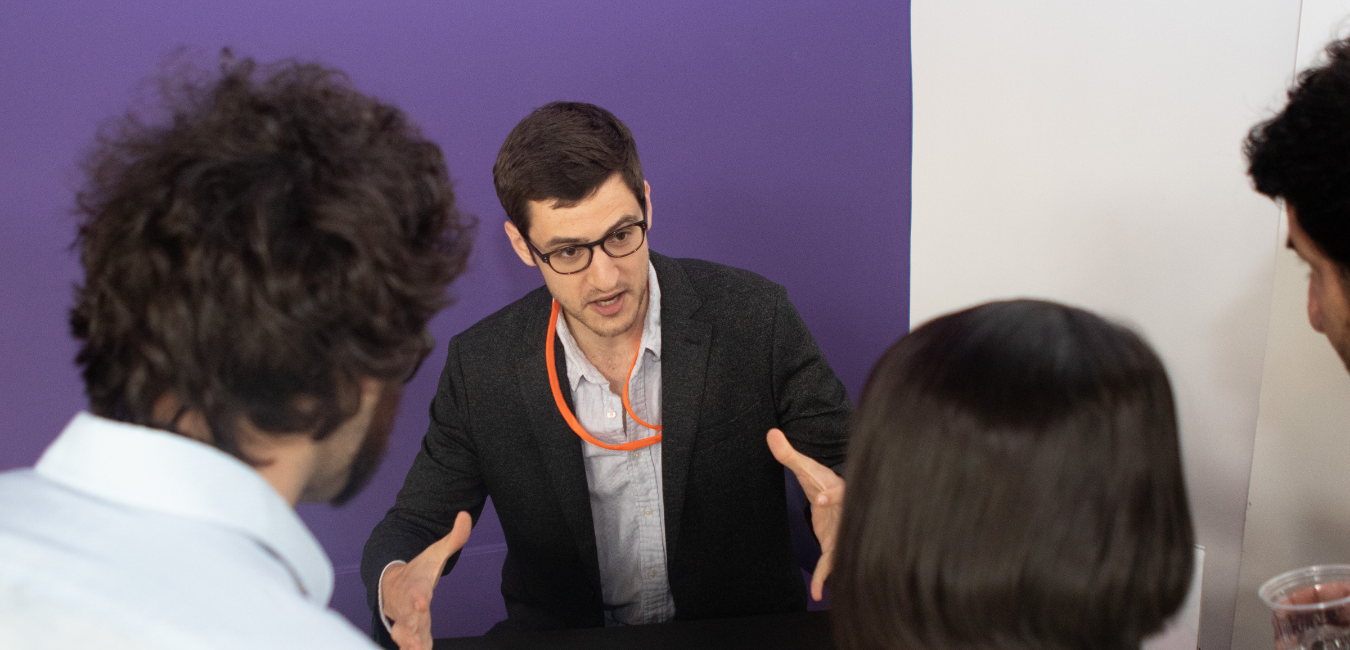 Nic Gunkel
New Milford, Connecticut, USA. Senior Vice President at Forward Cities. Research and policy expert. German. Father.
Nicolas Gunkel is the Senior Vice President at Forward Cities, a nonprofit that works with communities to strengthen their support structures for all their entrepreneurs. Nic has shaped the organization's research and evaluation agenda, leads the nascent government/policy work stream and holds financial and accounting oversight in partnership with Fay Horwitt, the President and CEO.
If you read Fay Horwitt's feature, you are already familiar with Forward Cities, one of the leading organizations in the U.S. when it comes to inclusive ecosystem building. In November 2020, I sat down with fellow German Nic Gunkel to learn more about Forward Cities' approach to fostering entrepreneurial ecosystems and measuring their maturity.
---
"I'm proud to be part of Forward Cities, a nonprofit organization that has grown to be one of the leading voices of promoting equity in ecosystem-building. I joined about three years ago to lead the research and evaluation work and just recently stepped into the role of Senior Vice President. This leadership role affords me the opportunity to co-shape the strategic direction of the organization and equally important, offers a platform to promote greater adoption of this work.
Strengthening the support systems available to folks who want to start or grow their business is absolutely critical to our communities.
There are a lot of people who recognize the urgency of now. They know that we will continue to let down entrepreneurs, their families and those that support them if we don't begin to make smarter investments, at scale, into weaving networks, supports and capital around them – supports that are designed by their communities, owned by them and because of this – there to stay.
However, a lot of people committed to serving entrepreneurs aren't necessarily familiar with the term 'ecosystem-building', but still share the same values and convictions that drive this work. It is incumbent on us to make the ideas more accessible, to lead with a learning mindset and hold ourselves accountable to achieving lasting change."
Introducing: ESHIP Communities
"As part of my work I have the privilege of collaborating very closely with Fay Horwitt, our new President and CEO, an incredibly talented and accomplished field leader and long-time lead of the ESHIP Communities initiative (ESHIP = entrepreneurship). She is the brain and soul behind a lot of this work and continues to challenge all of us to co-create strategies with our community leaders that can be adopted and refined by hopefully many more communities across the country and beyond.
Supported by the Ewing Marion Kauffman Foundation, the ESHIP Communities initiative allows us to work in four different communities across the U.S. The initiative is designed to support community champions and entrepreneurs in creating replicable strategies for overcoming systemic barriers that disproportionately stymie the entrepreneurial talents of communities of color and women. We run ESHIP Communities in Kansas City, Missouri and Kansas City, Kansas, Baltimore, Maryland, Long Beach, California, as well as the Central New Mexico region around Albuquerque, Santa Fe and Los Alamos.
In all of these different communities, a local full-time ecosystem-builder invites a council of entrepreneur support organizations, individual entrepreneurs, and in some cases local government leaders and passionate individuals to join our effort and steward the initiative locally. Our mandate under the ESHIP Communities grant is to bring the ecosystem design principles to life in a coherent and replicable methodology. Besides cultivating local leadership, this entails identifying barriers to entrepreneurship, piloting solutions that hold promise to address these barriers and telling the story of this journey.
Centering voices from historically sidelined communities
"As a core principle of our work our team strives to elevate the voices from folks who have been doing this work for their communities for a long time, but have repeatedly been sidelined or left out of the conversations about the future of the ecosystem. By centering their voices, we try to bring new ideas to the forefront about how we might remove barriers to entrepreneurship and spark conversations among existing stakeholders about what a vibrant ecosystem looks like, whose stories to elevate, how to measure success and what the mission for this work can look like in the future. We're excited to begin sharing some of the lessons that emerged out of these individual small pilot programs very soon so that other communities can look at the full ESHIP playbook and see examples and specific strategies applied.
It gives me a lot of hope to see what folks have been able to stand up on their own, often with very little or no formalized support and investment.
It all began with Kansas City, which has been a part of the ESHIP Communities for the longest period of time. We started with a very place-based focus which has allowed us to hone-in on needs of communities of color and other historically disadvantaged groups. The intersection of race, ethnicity, gender, language and cultural customs creates a very intricate web that can often be best understood when zooming into a small geographical area, especially in communities where there is a strong affiliation to a place. At the neighborhood level, the lingering effects of continuous of historic disinvestment and discrimination become abundantly clear and serve as an essential prism through which to look at access to economic opportunity throughout the entire city or region.
There's so much inspiring work that is being done in these communities that is often physically and mentally very far away from the startup circles that are typically in small niches downtown. It gives me a lot of hope to see what folks have been able to stand up on their own, often with very little or no formalized support and investment. Imagine the potential if we make a concerted effort to extend the same support to them as we do to the shiny startups."
What makes a thriving ecosystem?
"When it comes to ecosystems, we think of four big factors:
people (entrepreneurs, mentors, champions and ecosystem builders)
programs that allow folks to become active entrepreneurs and places where they meet or bump into each other and have conversations
networks that create support structures that help businesses thrive, including capital
narratives that combine data with the identity of an ecosystem.
We created a tool to measure the health and equity in entrepreneurial ecosystems, the E3 scorecard. It takes about 15 minutes to go through and it allows you to understand where there are opportunities for growth in your ecosystem and where your community's strengths lie. Ideally, you get a group of different stakeholders together to allow multiple different perspectives to inform the assessment and validate or question assumptions that all of us have."
Where do you see ecosystem builders struggle?
"Not surprisingly, ecosystem builders have to deal with a lot of formal and informal politics by virtue of driving change in their communities. Unfortunately, this has given rise to generalizations of different power struggles, especially between economic development professionals and ecosystem builders, that – to our detriment – we as a field have not yet dispelled effectively enough. No matter how much we disagree at times about ways in which we intend to help our communities prosper, we have to find a way to remain open to conversations. I strongly believe that in more places than not, we will find more receptivity on this issue than most folks expect."
How can we support you?
"For one, please fill out surveys from your local ecosystem builders whenever you have the chance – it really makes a difference. Also, please reach out to your local political representatives, on the city council all the way up to your U.S. House member and share about the contributions you make to entrepreneurs and enlist them to help out with a very specific ask.
There is an online course that we will make available to ESHIP Communities councils this spring (and the broader public soon thereafter) that my colleague Eliza Salmon has been instrumental in putting together, which is designed to build ecosystem-builder's confidence and skill set to engage with political officials around our work. Stay tuned and follow the release that we will communicate via the Forward Cities newsletter."