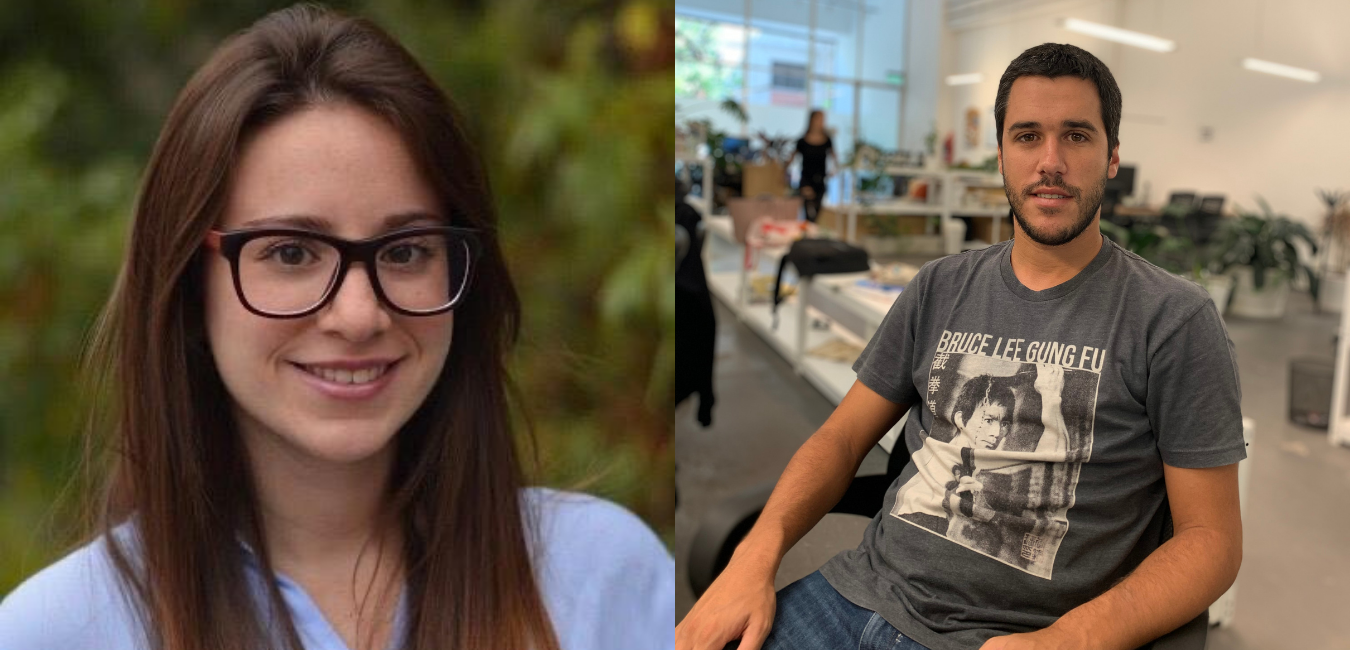 Vanesa Nahir Acosta & Agustín D'Elio
Buenos Aires, Argentina. Vanesa: Social Innovation consultant. Agustín: co-founder of Huerta coworking space. Community builders and Zebras Unite chapter co-leads.
A Zebra is…
Vanesa: "For me, a Zebra is a company that exists to tackle an injustice that its founders are intimately familiar with. It's also a company that addresses the most pressing social and environmental issues while earning revenue and being profitable."
Agustín: "Being a Zebra means being a company that creates a product to solve a problem in the market but without ignoring the social and environmental consequences of their actions. Being a Zebra also means adding value to society as a whole."
11 unicorns and 1 growing dazzle of Zebras
Vanesa: "Right now in Argentina we have eleven unicorns which are the main focus of the traditional media. In fact, 6 of them have become unicorns this year only! Nevertheless, I am convinced there's a different way of doing business. That's the main reason why we started the Buenos Aires chapter of Zebras Unite. We want to raise awareness about this new model of Zebras in Argentina by giving them a voice, bringing them together and helping them grow in community."
Sustainable and balanced communities: an ideal future
Agustín: "Our vision for the future is one of greater collaboration where we build sustainable and balanced economies. We want to build a society in which every decision is analyzed from a social and environmental standpoint. Businesses play a big role in any economy. We strive for a future in which companies are profitable but also take their social and environmental impact into consideration."
Putting an end to philanthropy as we know it
Vanesa: "There's a new generation of impact investors arising who are not looking for unicorns. While this is not the norm yet, there are a few who are truly interested in generating positive impact through their investments. 
At the same time, philanthropy has demonstrated over the last decade that it's not healthy for the organizations that receive the funds which, sometimes, can't survive without them. In this sense, I am convinced that philanthropic giving is not a sustainable way of creating lasting systemic change. Instead, we should focus on growing and educating the nascent impact investing ecosystem here in Argentina."
Citizens as activists and changemakers
Agustín: "Communities are starting to hold governments and companies accountable for their actions and I see that as an important first step in the right direction. But it doesn't stop there. I believe there's a lot more work to be done when it comes to educating citizens about their power as consumers and decision-makers. Communities should be even more curious and demanding. We have more information available to us than ever before; then it's imperative we use it to our advantage. Communities have the power to influence governments to change and transform the framework in order to build the economies of the future."
Startup culture of the future: solidarity, honesty, proactivity & collaboration 
Vanesa: "In my ideal future, I imagine companies joining efforts to tackle social, cultural and environmental issues together based on values such as solidarity, honesty, proactivity and collaboration. I imagine a world of collaboration where governments, NGOs, businesses and investors work together in order to co-create more sustainable and conscious communities."
We need to be funding different types of solutions to different types of problems. By including more diverse perspectives from more diverse groups into the startup community we will be solving more relevant problems better.
Agustín's Contribution
Agustín: "My personal role is building local communities in order to foster and spread these types of ideas and grow the Zebras Unite movement in Argentina. The argentinian unicorns are in the news on a monthly basis; Zebras don't get even a fraction of that coverage because they're still not on the media's radar. I'm working to change that. 
We need leaders that make business decisions based on profitability AND impact. 

Agustín D'Elio
Vanesa's Contribution
Vanesa: "My personal commitment is with the Latin American region. This is why I am currently working  for IMPAQTO, the first Ecuadorian B Corp, where we co-design meaningful impact projects for multilaterals, corporations and NGOs.
In parallel, I'm also building a regional network, called ANTIRED, to connect ethical investors with socially and environmentally focused incubators and accelerators in order to attract impact funds to Latin American entrepreneurs." 
What lies ahead for Zebras in Argentina
Agustín: "We're hoping to put Zebras on the radar of the media to ensure more people learn about Argentinian companies that have a new and more sustainable way of doing business. We're working to build a network of business leaders who share our mission and values. The long-term goal is to build a community of Zebras who help each other grow and who we can support in accessing values-aligned capital and different types of financial resources."
How Can We Support You?
Vanesa: "If you know impact investors or impact-focused incubators and accelerators in Argentina, we'd love to invite them to join our Zebras Unite chapter!" 
Agustín asks the community…
How are you building your local community?
We're starting our chapter so we're curious to explore how other chapters are growing and nurturing their community.
Shout-out
Daravi is an Argentinian social enterprise. They employ women from underprivileged communities to manufacture ethical home accessories by upcycling trash from textile factories. 
Arbusta is another Argentinian social enterprise that revolutionizes the technology sector by breaking the talent shortage paradigm: they employ high-potential youth, often ignored by the market, while providing fast, continuous and flexible tech solutions to big corporations.
B3Hogar is a brand new local social business which builds high quality and eco-friendly houses at an affordable price.