"In a Mittelstand enterprise
Up to two natural persons or their family members (directly or indirectly) hold at least 50% of the company shares and
These natural persons also belong to the management of the enterprise.
According to the definition of the Institut für Mittelstandsforschung (IfM) Bonn, the terms Mittelstand, family enterprise and owner-managed enterprise are considered as synonyms.
There is a large overlap between Mittelstand enterprises/family enterprises and independent small and medium-sized enterprises (SMEs). Nonetheless, also large enterprises with more than 500 employees or an annual turnover exceeding 50 million € are classified as Mittelstand / family enterprises if they fulfil the above mentioned (qualitative) criteria. By contrast, small and medium-sized enterprises which are (dependent) constituents of an enterprise group do not meet the Mittelstand definition."
Welcome to the world of Mittelstand as defined by the Institute for Mittelstand Research! Now that you're up to speed, let us introduce you to New Mittelstand:
New Mittelstand
According to the manifesto published on the website, the German Mittelstand has lots of advantages if we consider purpose-driven economy future:
Ethical & value-driven culture
Emotional & entrepreneurial leadership
Flexibility & independence
Although, Mittelstand has also some catching up to do it is to remain competitive, according to Evgeni Kouris:
"Being family-run has a deep impact on not only the culture, but on the way in which Mittelstand businesses view and do business. While we are hurtling into a digital age at full-speed, however, the German Mittelstand is rarely well equipped to respond to the new age of workers, customers and their demands:
Their work processes are less agile and digital.
They have historically invested little in disruptive research and development for innovation
Instead, Mittelstand businesses tend to focus more on evolutionary improving existing products instead of thinking at the level of radical customer-centric change"
From snacks (Bahlsen) to beer (Bitburger), from pencils (Faber-Castell) to heaters (Viessmann), what we love about these iconic brands is that they feel like family; they have deep cultural heritage, they're part of what it means to be German or European.
"At New Mittelstand, I work with various Mittelstand companies to help them adjust to the new normal through cultural/digital transformation and innovation to ensure they remain relevant and competitive in the purpose economy." This is how Evgeni Kouris describes his work behind the scenes of New Mittelstand – a hybrid organization consisting of a non-profit platform spearheading the New Mittelstand movement and a for-profit purpose-driven consultancy supporting Mittelstand businesses in meeting their challenges in areas of transformation and innovation.
About roots and wings: Legacy business meets innovation
"The businesses I work with are by definition family-oriented and traditional. They hold a certain cultural value. But like any other business, they need to keep a close eye on what customers care about if they want to stay relevant and profitable. Within many Mittelstand businesses, Millennials are starting to take over. I like to refer to Johann Wolfgang von Goethe who said:
"There are two things children should get from their parents: roots and wings. Roots to keep both feet on the ground, even in turbulent times, and wings to overcome life's challenges."

Johann Wolfgang von Goethe
That's how I view this transition: Rooting these iconic brands in tradition while empowering them to move into the purpose-driven economy to remain relevant and successful. What these initial conversations often come down to is the purpose of the business. Getting very clear on what the founders set out to do in starting the business decades or even hundreds of years ago helps us identify, where they might be headed for the next hundred years – assuming the purpose of the business still reflects the purpose of the current generation."
Mittelstand + Startup = New Mittelstand
"In working with a number of Mittelstand businesses, I realized that future-proofing traditional family-run companies has great potential to become a strong movement that aligns closely with the values and mindset of the Zebras Unite movement. Zebras Unite focuses on startups while New Mittelstand works with existing family-run businesses – but in terms of our values we are on the same page. That's why we aligned early on in Berlin, co-hosting events with Berlin's chapter lead Kasia Odrozek."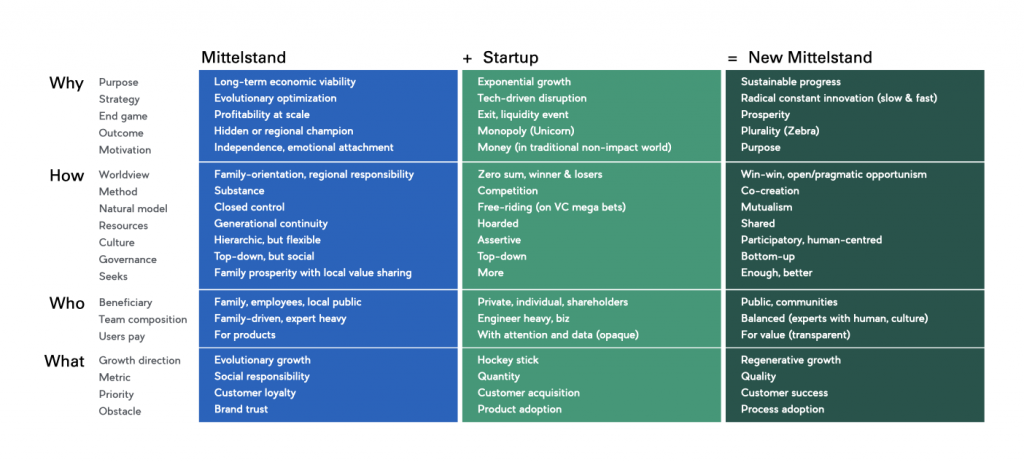 Your Ikigai
"Before helping someone else, you have to work on yourself. You have to have an idea for what your vision is so that you're able to help others work on theirs. That's why I helped launch Humix – a platform for personal development, to gain emotional intelligence needed to adapt the business.
I want to help create a culture in which people live true to their purpose and values – their ikigai.

Evgeni Kouris
My ideal world is one in which people have the capacity, language and culture to talk about the purpose economy and value it. This quote by Edgar Schein at the MIT Sloan School of Management sums up what I also believe in:
Culture and Leadership are two sides of the same coin. So in a very real sense, founders and leaders create culture. Although systems are ever-changing and dynamic, cultural stability oftentimes remains strong and viable.

Edgar Schein
What makes this work beautiful is also what makes it hard: It is both personal and professional. Finding your Ikigai means pursuing your passion and giving it your all – and it means you never turn off. A lot of the work I do with clients is driven by my intuition. I don't have a standardized approach yet; I have a framework, but I am constantly customizing it for each client individually – which leads to great results, but it takes a lot of energy."
How can we support you in your efforts?
At New Mittelstand we believe that we can only achieve the desired change collaboratively, for a good future. Hence, we are open for any initiatives and connections to join the movement:
Non-profit platform: join our movement as a Mittelstand or Zebra entrepreneur in order co-create events and new educational formats
Purpose-driven consulting: join our community as a Freelancer or Consulting firm!