Mara Zepeda
Plumber of alternative infrastructure. Startup founder and movement maker. Zebra and calligraphy artist. Managing Director at Zebras Unite.
Mara Zepeda is co-founder and CEO of Switchboard, a system design and technology firm serving institutions in transition, including higher education, media, capital markets, and civic engagement. We serve these partners through both our service design consultancy, fellowship, and curriculum as well as our award-winning software platform. We draw on principles of participatory, human-centered service design to build internal capacity to create change. Mara was previously an investigative economic reporter, working with outlets like National Public Radio, Planet Money, Marketplace, and The Boston Globe. Mara is a founding director of the XXcelerate Fund, a revolving loan fund and mentorship program created for and by women entrepreneurs that is piloting in her home state of Oregon. She is also a co-founder of Zebras Unite, and Business for a Better Portland, the city's fastest growing business organization, which boasts over 400 values-aligned members, including both international brands like Nike as well as local bicycle retailers. Mara holds degrees from Reed College and Columbia University's Graduate School of Journalism.
---
A nesting doll called Mara
Liberal arts student turned startup entrepreneur, builder of alternative infrastructure and movement maker – whatever Mara Zepeda takes on, she handles it with great care and a deep desire to serve communities through systemic change. As you peel back the layers of Mara the creative, pioneer of character-based lending, and Zebra, you will find at the core a nucleus of service to others and thoughtful systems design to scale her commitments and empower those working alongside her.
"I went to Reed College which is a small liberal arts school in Portland, Oregon, and the services that were offered to me after I graduated were misaligned with what I needed. Back then, support for graduates meant teaching us how to write a resume. The school was not fully leveraging its remarkable network of alumni to help the next generation of students. People like Steve Jobs, James Beard, and Barbara Ehrenreich attended Reed, as have thousands of remarkably talented graduates. There wasn't an obvious way to learn from them and tap their wisdom. So 20 of my friends and I got together and said 'We're going to donate $40 for every student or alum that you let us help through our networks!' and they said to us 'Well, we don't know how to do that.' So we launched Switchboard to solve our problem.
Serving a need is what I strive for in everything I do.
It's essentially a mutual aid network where people ask for what they need and offer what they have to give; and in a moment like now – as you might imagine – there's an extraordinarily high need. We've been inundated with requests for Switchboard; we knew that we were always going to be early to market. Instead of social sharing (photos, updates or likes), Switchboard is very much based on propositions like "Here's what I have. Here's how I can give back. Here's how I can help you." We're simply starting from a place of lived experience and then design the system to accommodate those.
Serving a need is what I strive for in everything I do, whether that was the software product that I helped develop or the organizations I've created, I always follow the credo that the system should support how we're being of service. Unfortunately, our existing institutions are so old and calcified that we need an update to all those operating systems to come from a user-centered design standpoint. In a way, it's all the same work over and over again:
Asking people what they need,
Create a mechanism for them to do it regularly, and
Serve those needs through systems that can scale.
It's just that simple."
Plumbing for systems change
"I was in Target not long ago. Just walking the aisles was like watching our whole economy as a microcosm: All the necessary items were gone and the 95% of stuff that remained on the shelves were all the non-essential items. It was astonishing.
So no, I don't think we'll go back to the way things were but the real challenge is that in order to get to the future, you need some type of upgraded infrastructure. One place to start is how money flows through our economy. Think of capital as water: It flows through the pipes of a banking system, so you need to invest in the plumbing of the banking system in order to get the capital out into society, philanthropy, government, family offices, investors, and so on. There simply has not been an investment in an alternative infrastructure; the spirit of Zebras Unite represents that alternative infrastructure, whether it's the chamber of commerce that I helped to start and Portland that's now the fastest growing chamber of commerce; whether that's character-based loan funds that we're deploying with the XXcelerate fund; whether that's all the work we're doing around helping platforms think about exiting to community. All of that is not a project or a program, it's infrastructure work.
In my mind whether or not we are able to close the chasm to the future we want depends on what type and level of unified investment in the infrastructure of the future we can pull off. That type of plumbing must allow for all these resources to flow because otherwise you end up with one-off pet projects of philanthropy. And those do not have the infrastructure impact that we actually need. So a lot of what I think about in moving forward is how to find funders and investors who think about infrastructure and systems investment in a holistic way."
Zebras Unite: Building the culture, community and capital for the next generation of entrepreneurs
"When we started out in 2016, we called out the traditional VC world for its obsession with hockey stick growth, exits and IPOs. Being a startup that understands value beyond monetary terms used to be very isolating. Today, Zebras Unite has 45 chapters on 6 continents and our online community is home to more than 5,000 individuals."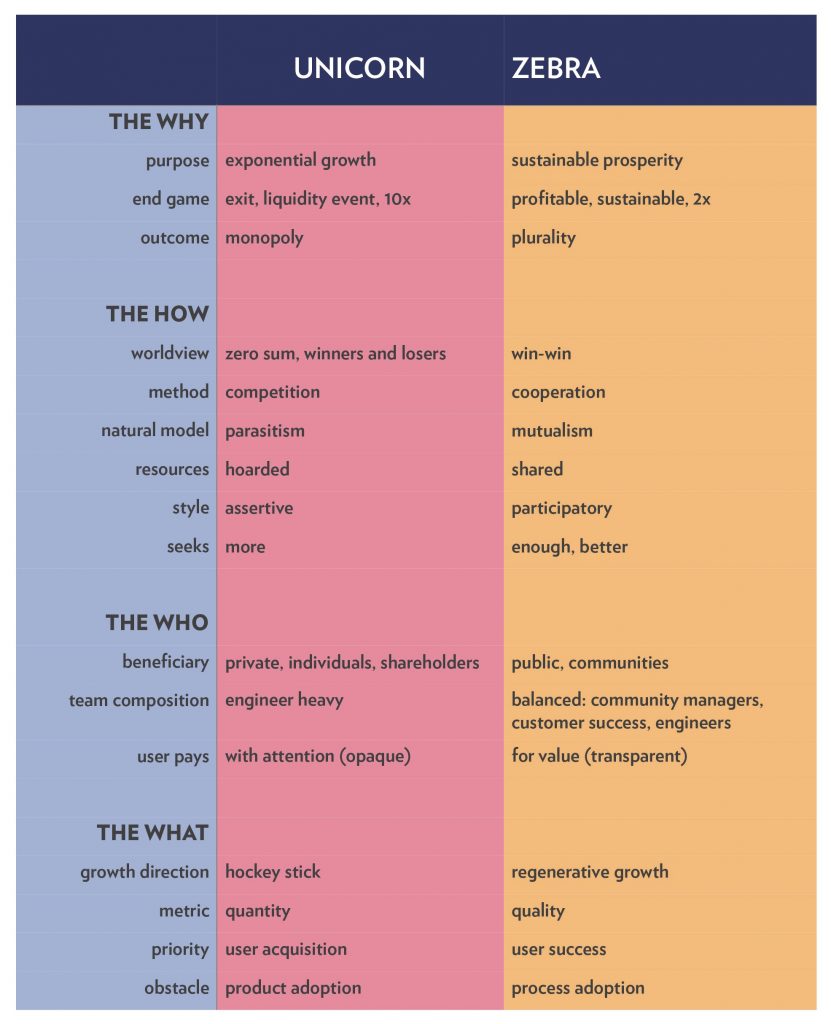 "For Zebras Unite founders, almost nothing is easy. For example, they want to hire employees but in order to do it in a Zebra fashion, they have to spend another $20,000 on lawyers so that they're corporate structure reflects that shared ownership and they are educating stakeholders along the way, which takes additional time.
In order to create more Zebra companies, we want to promote our ethos and culture, continue to build the community globally and create alternative funding opportunities. And all that brings us back to the conversation about systems change. Just to give you an example: When a Zebra founder is doing a deal, they need to have Zebra-aligned lawyers who understand what their goals are and who are not setting up an antagonistic experience. That means we need Zebra law firms. We need to have Zebra-aligned investors who understand the type of patient capital necessary to fund emerging Zebra companies. And you need Zebra-aligned policy so that states like Oregon that rely so heavily on small business employment, can become resilient in the face of events like COVID-19. Incentivizing small local businesses through place-based investing comes from Zebra policy work."
Collaborate as if everything depends on it. Because it does.
"Women are not given permission to have big, bold visions for a better world. The environment we're in right now is one in which the only way to be successful is through incrementalism. And the only way to be successful through incrementalism is having a cast of characters that can come on the stage and play the role that funders need you to play.
As a consequence, I don't start anything individually, it's always coalescing with at least three or four other people. This approach ends up being a lot more fun, and also teaches everyone about how to work together in teams . Zebras Unite is such a perfect example of how each person brings different strengths.
I don't start anything individually, it's always coalescing with at least three or four other people.
Jen and I were both reporters, so we wrote that initial piece Sex and Startups. We're really good at communicating, writing press releases, and synthesizing a vision of the future. Astrid has a PhD in economics and has managed gigantic non-profits and designed investment vehicles. She comes with a well-cut funder lens, she understands very clearly how funders talk, what resonates, and how to create programs that will be funded. Plus, she brings a lifetime of experience in creating the operations and infrastructure design in order to build and grow successful organizational endeavors. And then Aniyia has worked at every level. She's incredible at bringing people together and producing thoughtful and relevant content and programming that gets people fired up and engaged. She also brings a wealth of lived experience as an African American founder; the organization she created – Black and Brown Founders – is constantly listening to the needs of underrepresented entrepreneurs.She is one herself and then she has such a varied background from working in nonprofits to the private sector to start ups and then is just an extraordinary speaker and presenter on these issues."
How can we support you?
"If you want a mutual aid network, sign up for Switchboard (which merged with Hearken less than a week ago). If you would like to learn more about starting a progressive chamber of commerce, check out Business for a Better Portland. If you want to learn about starting a place-based fund, visit XXcelerate Fund and if you just want to learn more about the entire ecosystem for better startups, join Zebras Unite!"