I was introduced to Jessie through our mutual friend and impact maker Lee Crockford. What transpired in our conversation was a deep commitment to helping social entrepreneurs thrive and – in times of COVID-19 – survive. Jessie shared some great insights and examples from members of the International Youth Foundation's (IYF's) YouthActionNet initiative and how they were able to respond to the pandemic. When I followed up with Jessie in October 2020, she was able to share feedback from their Alumni survey about how the pandemic had impacted them. The survey ran in July/August 2020, you can find some of the results throughout this article.
"IYF is active in a number of areas that we consider essential for young people today: leadership, technical and life skills.
We aim to build skills and create opportunity for young people so that they have choices over where their lives are headed.
In 2001, we launched YouthActionNet to be able to better support the young social entrepreneurs who were past the idea stage and were figuring out how to be more impactful leaders in their communities. Over the years, we have provided skill-building opportunities, access to networks and resources, and increased visibility to over 2,100 changemakers across more than 90 countries, through a community of national and regional fellowship programs managed by local partners, as well as a global fellowship program managed directly by IYF."
COVID-19 Support
During the time of this interview, early May 2020, Jessie was in full-on response mode to COVID-19 working to help Fellows access information and learning resources to help them navigate these challenging times. A heavy lift if you're trying to cover 94 countries, not all of which are English-speaking! But Jessie's hard work paid off, YouthActionNet curated an extensive list of resources for social entrepreneurs to cope with COVID-19.
"Part of our philosophy is that we're investing in people first. Our Fellows do amazing work to create positive change, and we know they will continue to be impactful leaders whether they run the same social venture for years, move on to another social venture, or change careers and work in a different sector entirely. We consider them fellows for life, so what we're trying to do is intentionally engage the network around creating resources and a safe space for them right now. 
We invest in people first.
Our first intervention, if you want to call it that, is a curated library of resources. They are existing articles, podcast episodes, videos etc. on some key topics that range from mental health and self-care to trying to navigate your work-life situation under lockdown to more technical skills like how to financially survive right now, how to pivot your work to be responsive to your community's needs. We have established categories that resonate and we continue to add to that as we find resources as well as funding opportunities. 
The other support piece is more interactive: We've been running a series of learning sessions, virtual workshops and round tables by Alumni for our network. I've been recruiting alumni as speakers, scheduling events, marketing and partly facilitating them. We're trying to offer a mix of personal and professional support, and also spaces for people to connect and ask questions, because our Alumni have a wide variety of needs." 
What has been the response so far?
"There's generally a can-do spirit which is what you would expect from young social entrepreneurs, and even those who aren't so young anymore. And that's really encouraging. We're seeing people pivot very rapidly; they are being very creative with their resources and how they're channeling them. We have a fair number of social enterprises that are selling a specific product or service. Some of them are seeing positive trends in terms of increased conscious consumption during this time, so that's an encouraging shift. 
Instead of throwing in the towel, we see Fellows pivot very rapidly and become creative with their resources.
In general, people seem to be a lot more intentional about spending their money with local businesses and/or social businesses. And that's great for the Fellows in our network who are able to take advantage of that. Of course, they have to adapt in terms of their operations due to pandemic measures, but I've been impressed by how creative they are with things like manufacturing, scheduling, distribution and trying to keep workers on board. Not surprisingly, they cannot keep up with pre-pandemic levels of production because of all of the regulations that are in place in different countries. But instead of throwing in the towel, our Fellows have been trying new things.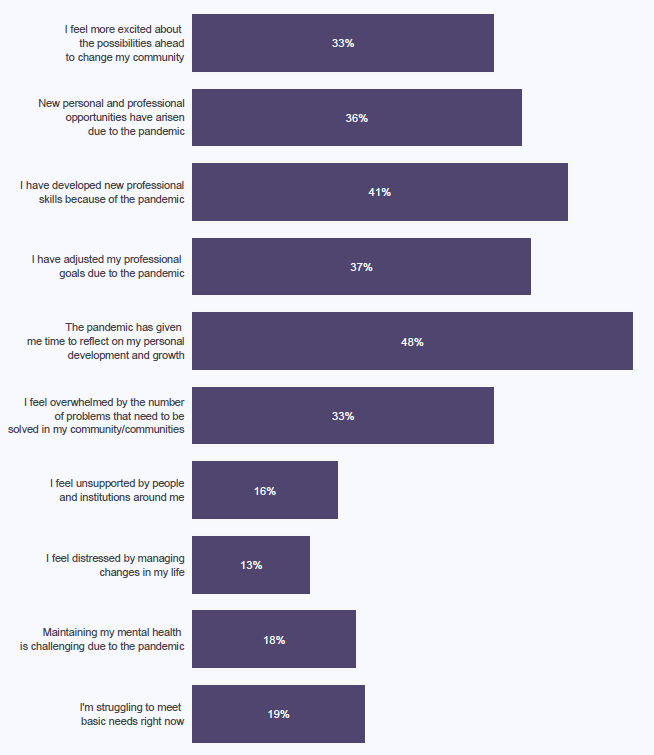 One specific example is one of our fellows in Mexico, German Santillan Ugarte, who works with local cocoa farmers. He has a whole chocolate value chain and has been able to keep up some level of production by changing their operations; they have fewer people working at any given time to be able to maintain social distancing, and with their updated operation they're still operating. While previously their primary customers were restaurants, they're now trying to find new outlets and enter new markets for their product, and they've been able to use social media somewhat successfully to create new interest. 
Fellows are also mobilizing funding and other resources to help vulnerable populations make it through this time.
We're definitely seeing some really cool pivots and Fellows being creative and responsive to pandemic needs. Some Fellows who have been working in textiles have now shifted to COVID-specific items like personal protective equipment (PPE). Instead of making handbags or clothing they're now making face masks. A bunch of ventures that use 3-D printers have shifted their production to print components for face shields and other PPE. Fellows are also mobilizing funding and other resources to help vulnerable populations make it through this time; for example, one of our fellows in Brazil, Luiz Hamilton Ribas, worked with his team to launch a campaign that has been raising money to cover basic needs for people with disabilities and their families, and they've done an amazing job of not only raising funds but also getting supplies to people in need quickly. This is extra challenging with pandemic-related restrictions, but they're making it happen!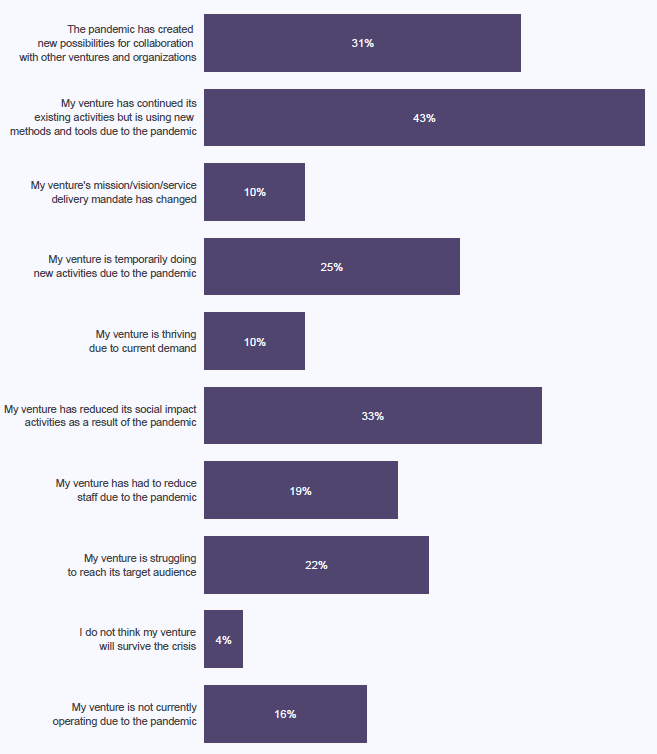 Another really interesting thing that I have been hearing about is a trend to return to "older" technologies. We're seeing increased use of radio- and SMS-based communications to continue to maintain contact or be able to continue to offer specific products or services when you can't offer them face-to-face. This pandemic is shining a spotlight on many weaknesses in different systems, the digital divide being one of the most prominent ones. Whether they're addressing education, health information, food security or farming-related communications, we have Fellows who are offering information or continuing to maintain connections with their stakeholders with SMS messaging because they know their stakeholders don't have smartphones and they can't do face-to-face training. I love this embrace of what tools will actually reach more vulnerable populations, rather than assuming that the world just needs another smartphone app. 
This pandemic is shining a spotlight on many weaknesses in different systems, the digital divide being one of the most prominent ones.
On the flip side, we definitely see some Fellows who are struggling, who had to institute pay cuts, let staff go, reduce operations, or even put everything on hold for a while. In some ways, some of the ventures that are more donor-dependent (traditional NGO models) may have a little bit more resiliency if they already had funds committed or in the bank. But that long-term outlook is quite different and I think they're all forced to think about both how to keep the lights on right now, and what that funding landscape might look like in the future. We're not just going to flip the switch and go back to how things were pre-COVID."
Why do you do this work?
"I'm a very purpose-oriented, mission-driven person. I have never had a job where I've been able to only just do the job that was required. Another thing that I've realized about myself over the years is that I'm really drawn to creating connections between people. I love it when I can introduce a Fellow to another Fellow who is working in the same sector but on the other side of the world, or who has some experience to share, and contributing to a growing sense of community among the amazing changemakers who are YouthActionNet fellows definitely gets me out of bed in the morning!"
How can we support you?
"I'm excited about the opportunities that are coming up. I've been working with an incredible group of our YouthActionNet Fellows who have formed the first-ever YouthActionNet Alumni Council, and we're working together to create a structure that I hope will make more opportunities for members of the network to engage, learn, and collaborate based on their needs and priorities. I really believe that our Fellows should be in the driver's seat, not IYF, because the network should be about creating value for them and the communities they are working in. I'm also excited to be part of the team organizing IYF's first virtual summit, Our Future, Our Voices, which is taking place the last week of October 2020. The event is free and open to anyone interested in creating social change or learning how to support young people who are creating change, and I hope it will be an opportunity for the seeds to be planted that will grow new communities and collaborations!"
Registration for Our Future, Our Voices, IYF's virtual summit by, for, and with young people, is now open, and the event will take place October 26-30, 2020.