Social Venturers is live and I couldn't be more excited, thrilled, proud and grateful! [insert karate kick moonwalk emoji]
As always when you hit a big milestone, you look back on months of blood, sweat and tears, and the outcome right in front of you seems nothing short of inevitable. But in zooming in, I remember many grueling moments of questioning Social Venturers' purpose and my role in bringing this community to life. I remember sitting on our blue front porch last summer asking my friend Andy whether I had completely lost it. I remember talking to Tom Allen in Brisbane early on, word-stumbling through my vision for Social Venturers when all I really had was the burning desire to create a home for social impact professionals like him and myself; for people who operate behind the scenes of successful social startups; for those among us who believe in the power of entrepreneurship for social change.
At the same time, I remember the moments of soaring laughter with Kristina, a sense of camaraderie during my interview with Enoch, feeling swept up in a higher purpose of saving the world when talking to Daniel and a vigorous I-couldn't-agree-more! conversation with Hannah Gay.
The launch-high was followed by a feeling of unsteadiness, frazzle, and total overwhelm. Based on the previous weeks, my pulse suggested I keep working at the pace I had been; it made my chest feel tight and heavy; my brain bounced around a million superfluous tasks, and I seemed incapable of making the smallest decision (Cream? Milk? Half and half? I don't KNOW! Just give me tea!).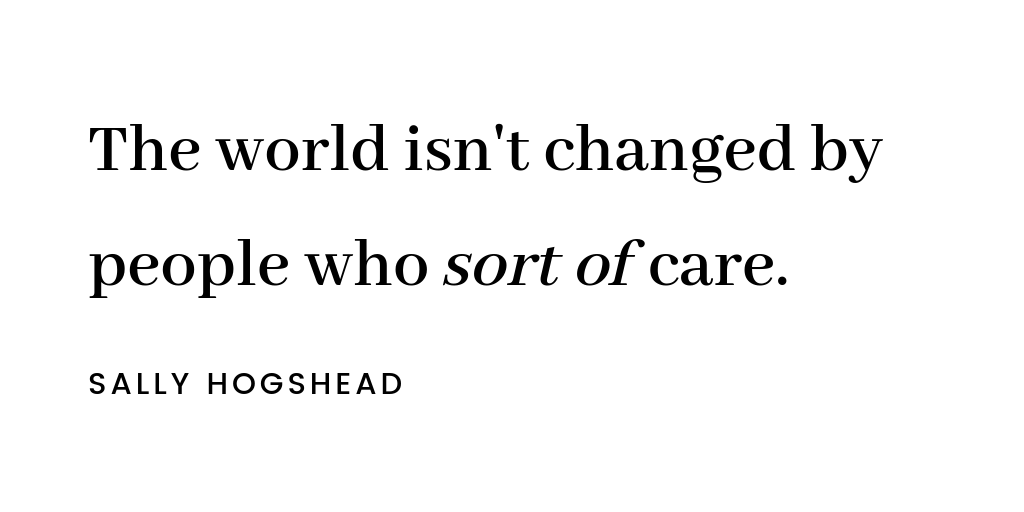 As most of you know, what looks like a simple website is, in fact, the result of eight months of research, work, outreach, interviews, with a little bit of self-doubt and frustration sprinkled in for good measure. And now that the site was live, I felt as though something big should happen. I was expecting a round of applause, an impromptu street party featuring Panic! at the disco, or some other monumental experience to recognize and celebrate this milestone.
And then I had to remind myself that this is a milestone for me, not the world at large (yet). I pep-talked myself about this being only the beginning of a long, long journey; a journey of building a movement, of raising the profile of ecosystem builders and architects of change who tinker with the system so that the ones on the front lines (social entrepreneurs and innovators) can succeed.
I wasn't prepared for the feeling of having climbed the tallest professional mountain I have ever seen, only to arrive at the summit and get a first glimpse at how many more are ahead of us; and from where I'm standing right now, they seem tall and intimidating, and I'm not sure I have trained for this, have the right equipment or any partners along the way.
Which is exactly what I will be spending the remainder of the year on:

What's next
I have three more interviews scheduled this week and hope to complete at least five more here in Toronto before mid-October.
I am looking for partners to help spread the word about us! The only way Social Venturers has an impact is by getting in front of the right people! Partner organizations who share our passion for social impact and ecosystem building are key in reaching these audiences around the world! Do you have connections? Drop me a line, I would LOVE a warm introduction!
We are testing a few formats to take Social Venturers from a website to a living and breathing organization driven by YOUR interests, needs and ideas. Stay tuned while we tinker on different formats. In the meantime, picture us dressed in test lab coats and safety goggles!
How you can help
Help us spread the word! Drop me a short email and I'll be happy to send you our media kit including visuals and some copy that are just waiting for your enthusiasm!
What organizations do you know that are dedicated to creating social change through the power of entrepreneurship? Do you have contacts to people and/or groups that are on fire to make a difference in the world through supporting purpose-driven entrepreneurs? I am looking for potential partners for Social Venturers and will be forever grateful for a warm introduction!
For more ways to get involved, sign up for our newsletter and get monthly insights into the latest features and insights from the world of social impact professionals!