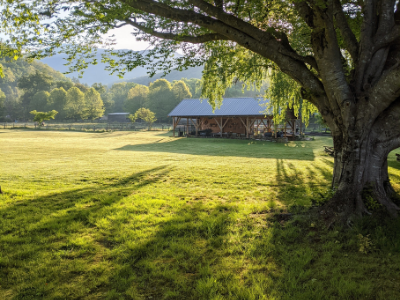 Logbook May 2021
What I've been working on. What lies ahead. How you can help.
May in review
After renovating the home of Social Venturers (hello shiny new website!), most of May was dedicated to letting my circles far and wide know about the new products and services that are now available to change makers around the world!
I've been thinking a lot about promoting Masterclasses through social media and feel myself pulled into the orbit of referrals more so than trying to stand out among the plethora of great offers that already exist for impact makers. I first started thinking about the power of leveraging local networks after hearing Dov Gordon talk about his approach to Alchemy Networks. More recently, I listened to Felecia Sullivan on What Works (SO GOOD!) as she shared her approach to marketing without scale and I kept thinking "This feels so much more natural than trying to convince strangers that I'm good at what I do!"
So I've been working on referrals for my favorite mission- and values-aligned organizations. Responses have been slow, some promising with more calls scheduled, some less promising but immediate and super kind. For example, my friend Tom Allen of Impact Boom (check them out!) got back to me within a few hours saying "To be honest, there's a lot of support built into the programs we're offering right now in terms of access to mentors and pointing our clients to people who can help them, I don't know how much we'd be able to point your way." and I thought "That makes total sense!" In these situations, I much prefer immediate honest feedback over crickets.
The second item that has taken up most of my time this month was Personal Mastery, a seminar on letting go of our ego to better serve our selves, families and communities. Eight hours on Zoom, several days a week for now three weeks (one more to go). I can honestly say that I had no idea what I signed up for when I applied for the scholarship. It has been an incredibly intense and deeply transformative experience which I had not considered possible even six weeks ago. If you're curious to learn more, I wrote about it in The Purpose Gap:
What's next
With summer around the corner, I'm counting the days until mid-July when I'll be taking some time off to see my family. Much needed after 22 (!) months away from my parents, sister and overall family and friends in Europe!
Before I unplug, however, I'm excited to share some of my hardest won lessons through three masterclasses:
June 2, Rooted in Purpose. Uncover what drives you and lead with your values.
June 23, Burnout proof. Define success on your terms and create a lifestyle to get you there.
July 7, Ecosystem Building 101. A systems level approach to supporting entrepreneurs in your community.
Once I return, I look forward to getting ready for The Keystone Program, a ten-week training program for entrepreneurial ecosystem builders that kicks off in mid-September!
How you can help
If you are looking to sharpen your tools as an impact maker or know other purpose-driven individuals, spread the word about the remaining three masterclasses!
If you are interested in joining the Keystone Program, you can pre-register and be the first to be able to sign up for the program!