More nights than not over the last two months, I have found myself sleepless with ideas and excitement rumbling through my head. As poetic as it sounds, it gets exhausting. I call it experiencing a Larkin – the only other person I know who is likely to respond to your email at 3 a.m. all bright-eyed and bushy-tailed because her sleep rhythm matches her energy (read all about it here).
I also noticed – with great impatience – a long delay from the time that an idea is born to the time that said idea is in front of you, the audience. The recurring theme for this season seems to be slow motion. The first interviews for Social Venturers took place in January 2019, but the site didn't go live until August. I spoke to Daniel Nowack in Berlin in April, and his feature went live today. You can assume that by the time you read this little retrospective, I already have three other pots in the fire that you won't know about until six months from now.
Slow slow motion
One of those been-in-the-making-for-months ideas are fireside chats. An opportunity to dive deep with fellow changemakers and systems tinkerers. We skip the small talk and use the opportunity for real talk about what it means to dedicate your career to supporting purpose-driven founders. What is working? What sucks? What are we struggling with and how can we help each other? You will see the first output from these in January (slow slow motion). 
Another change I have been mulling over is how to get more tangible, critical and thought-provoking content from interviews. When I first started out, I was obsessed with gathering as much comparable data as possible across interviews. As a consequence, I didn't always follow the natural course of the conversation but tried to get through all of my questions. I adapted my interview approach and am testing to see where that leads us. Bay steps, friends. Baby steps. Interviewing is hard!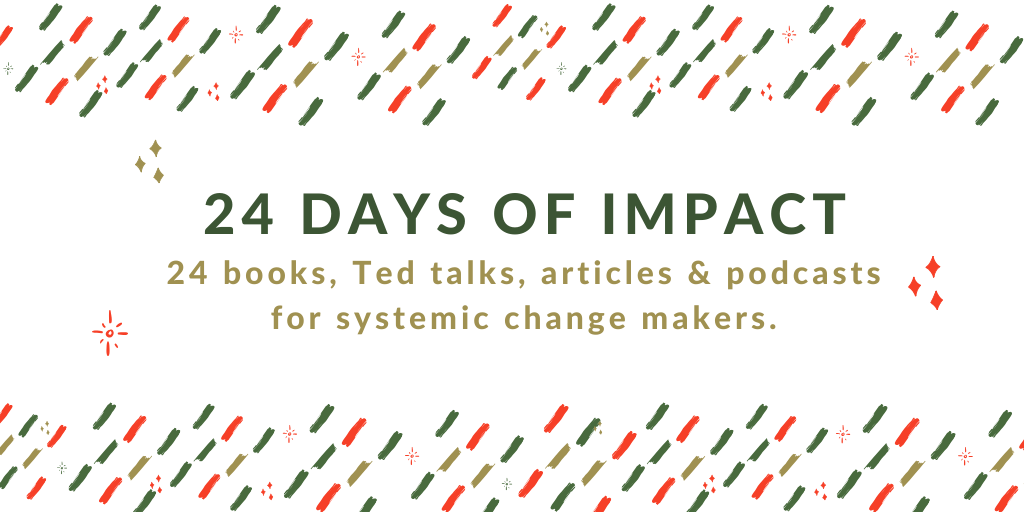 Thirdly, it occurred to me in October that I get in front of so many resources through each interview that I need a special outlet to share them with you! Each interview introduces me to a different angle, new tool or fresh insight that I can't keep to myself! I decided to package up all these little nuggets of wisdom, put a big red bow on each, and share them with the community leading up to Christmas. #24DaysofImpact can be found here and if you're all for opening one little gift a day (it's a digital advent calendar for those who grew up with them), follow along on Instagram! 
Writing
On the writing front, I finally found the right angle for a post that first took shape at a conference in Portland, Oregon, in February 2019 (slow motion is the theme y'all!). Coffee shops: The gateway to ecosystem building went live in November and talks about the importance of being an advocate for the entrepreneurs in your community. I was also mentioned as an Emerging Storyteller in the Ecosystem Builder Community.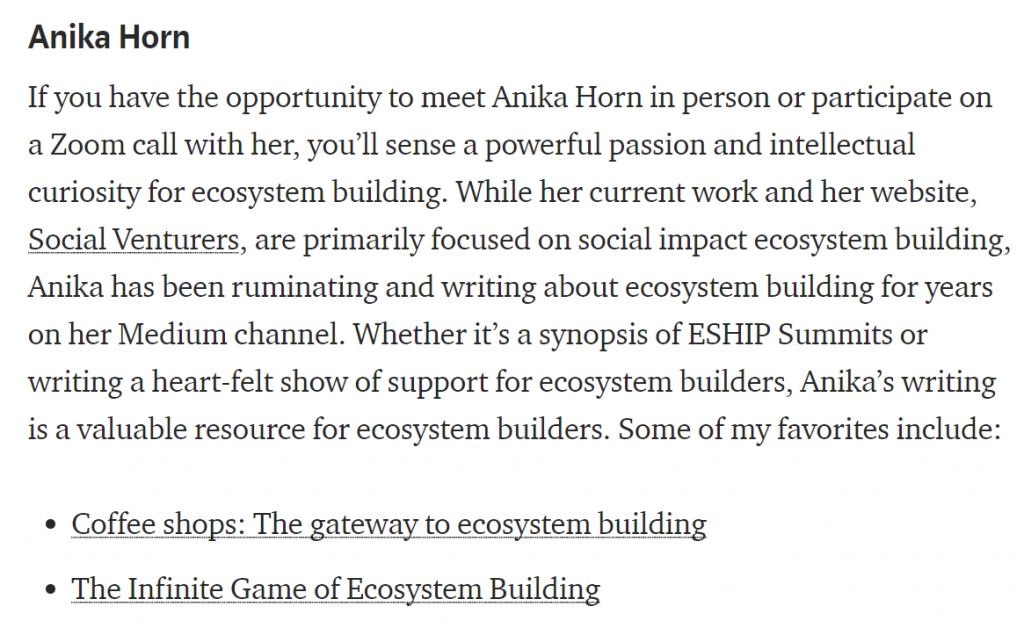 In a world of likes and reach, I was tickled to be recognized in great company with our friend Yuval Arden at The Keystone podcast and Ashley Ray of Emergent Solutions who has been working her magic behind the scenes of Startup Champions Network!
What's next
If you read my first ever logbook, you know that year one was dedicated to customer discovery. In year two, we are shifting our focus toward Experimentation. Of course, customer discovery never ends (duh!) so in a way I am doubling down on figuring out what the value proposition looks like in 2020 (I discussed this in the September and October logbooks – dedicated readers are informed!). I am currently working on my strategy for 2020 and am forcing myself no to plan more than three months ahead. I want to remain nimble and curious, and I want to pilot away. 
Now, this would be a great spot to let you know all that I have in store for the first quarter of 2020. But in keeping with the slow motion theme, you'll have to stay on your toes until January! If you have been interviewed for Social Venturers (and I have your address), your actual physical mailbox will – for once – give you a headstart!
How you can help
What events do you have coming up in 2020? Which ones are you attending that we can't miss? Which ones are you hosting? We'd love to know and share them with our community! Still looking for speakers? Peruse our features and reach out!
Do you know any social impact professionals and ecosystem builders who could use a daily dose of motivation and insight? Send them the link to #24DaysofImpact or to our Instagram channel to help us get these little treats in front of the right audience! The more, the merrier. It's  the season of giving after all!
Who do we need to talk to in 2020? If you know someone who is the bees knees when it comes to supporting purpose-driven entrepreneurs and pushing the envelope in the world of social impact, we want to talk to them! Nominate her/him here!